The Singapore-MIT GAMBIT Game Lab has two excellent talks coming up this week, featuring Clint Hocking of Ubisoft Montreal and Richard Rouse of THQ/Kaos.
The Territory is Not the Map: Hyper Realism and the New Immersion Paradigm

Clint Hocking, Ubisoft Montreal
Wednesday October 28, 2009
4-5 PM | Singapore-MIT GAMBIT Game Lab | 5 Cambridge Center, 3rd Floor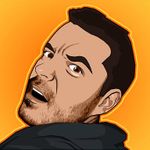 The games of today unsurprisingly strive to mimic the linear, authored structures of previous generations of media largely because gamers and game developers have grown up in a world where those media are culturally dominant. That is changing. As our media become more richly interactive and as our experience of the world becomes increasingly fragmented and parallelized, a new media culture is disintegrating the old. Games of the future will reflect this cultural shift by themselves becoming more fragmentary, more parallelized, and less focused on rich simulation and traditional notions of immersion.
This talk examines the potential long-term future of gaming by looking at the accelerating convergence between rising technologies and competing media from the internet, games, music and narrative media to augmented reality and the prominence of portable wireless devices.
This talk is free to the the MIT community and the public. If you are planning on attending, please email gambit-request@mit.edu so we can ensure enough seating for everybody. The location of the talk may change; please check updates on the GAMBIT blog athttp://gambit.mit.edu/updates/.
CMS Colloquium – Cinematic Games
Richard Rouse III, Kaos Studios
Thursday October 29, 2009
5-7 PM | MIT Room 4-231 | 182 Memorial Drive, 2nd Floor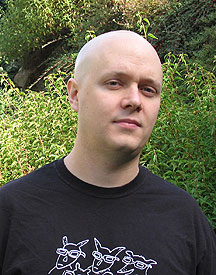 Many people talk about "cinematic" games, but what does this really mean? Over their century of existence, films have been using a range of techniques to create specific emotional responses in their audience. Instead of simply using more cut-scenes, better script writers, or making more heavily scripted game experiences, game designers can look to film techniques as an inspiration for new techniques that accentuate what games do well.
This lecture will present film clips from a number of classic movies, analyze how they work from a cinematic standpoint, and then suggest ways these techniques can be used in gameplay to create even more stimulating experiences for gamers, including examples from games that have successfully bridged the gap.
The CMS colloquium series is intended to provide an intimate and informal exchange between a visiting speaker and CMS faculty, students, visiting scholars and friends. Each week during the term, we host a figure from academia, industry, or the art world to speak about their work and its relation to our studies. These sessions are free, open to the public, and serve as an excellent introduction to our program. We also record these and broadcast them to the world-at-large via our podcast series at http://cms.mit.edu/news/podcast.
About the Speakers
Clint Hocking has been working at Ubisoft Montreal since July of 2001, when he began his career in the game industry as a Level Designer on the original Splinter Cell. During development he also took on the roles of Game Designer and Scriptwriter. Splinter Cell was nominated for seven Game Developer's Choice Awards (including nominations for Excellence in Level Design, Game Design and Scriptwriting). Along with writer JT Petty, Clint was honoured for his writing work on the title with the first-ever Game Developer's Choice Award for Excellence in Scriptwriting.
Clint continued to develop the Splinter Cell franchise as Lead Level Designer, Scriptwriter, and Creative Director on Splinter Cell: Chaos Theory – the highest rated Splinter Cell to date with an aggregate review score of 94%. Clint next took on the role of Creative Director on Far Cry 2, a controversial title that took players into the 'Heart of Darkness' of a fully realized African state torn apart by civil war. Both innovative and acclaimed, Far Cry 2 was another hit for Ubisoft.
In addition to working as a game developer, Clint is also active in the game development community, and is a vocal proponent of games as an emerging medium and art form. Clint is on the Advisory Board of the Montreal IGDA Chapter, and is a frequent speaker at the Game Developers Conference and other conferences around the world. He maintains a blog at www.clicknothing.com.
Richard Rouse III is a game designer and writer who has worked in computer and video game development for 15 years. He is currently Lead Single Player Designer on the story-driven FPS Homefront at Kaos Studios in New York City. He was Creative Director and Writer on the hit action/horror title The Suffering and its sequel, The Suffering: Ties That Bind. Rouse has led the design on a number of other games, including Centipede 3D, Damage Incorporated, and Odyssey: The Legend of Nemesis, as well as contributing to the design on Drakan: The Ancients' Gates.
During a stint as Director of Game Design at Midway Games he consulted on a wide range of next-generation titles, including Stranglehold, Wheelman, and This is Vegas. He has written about game design for publications including Game Developer, SIGGRAPH Computer Graphics, Develop, Gamasutra, and Inside Mac Games, and has lectured on game design at numerous conferences, including the Game Developer's Conference and the Electronic Entertainment Expo.
Rouse's popular and sizable book about game design and development titled Game Design: Theory & Practice was released in an expanded second edition in 2004. More information can be found at his website, www.paranoidproductions.com.